Tree Services Spotsylvania, VA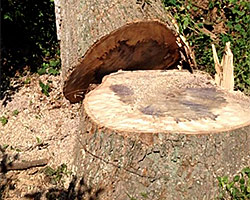 We can perform all kinds of tree services for residents of Spotsylvania, Culpeper, Fairfax, and other cities in the state. Our expertise and in-depth knowledge of tree care makes us the best crews for the job. We can help beautify clients' landscapes and make their lawns more conducive to moments of bonding or quiet relaxation. But whichever you wish to enjoy your outdoors, rest assured that our services will help ensure a memorable and restful moment each time.
Our Professional Tree Services
At Adam's Tree & Landscaping, we have certified arborists and trained personnel with extensive experience in handling tree care and maintenance. We also offer comprehensive tree services that practically cover all tree-related matters such as:
Tree pruning and trimming. Regular trimming and pruning ensure healthy and visually appealing trees. These maintenance techniques are also proven to help keep any yard safe with the removal of old or potentially hazardous limbs or branches.


Mulching. With the right mulch, you can expect stunning shrubs and trees that are also eye-catching. We have ready sources of fine mulches that you may have in mind, and we can also make recommendations as to what are the ideal types for your landscape.


Tree removals. We remove whole trees that serve as safety threats or obstructions in your yard. We have the right equipment to quickly and safely remove any sized tree and dispose it of properly.


Stump grinding. Stumps are not only eye sores, but they are also pretty hazardous for your family and guests. So before anyone accidentally trips and gets some serious injuries because of a stump in your lawn, call us immediately. We have the right equipment like stump grinder to get rid of any size of stump.


Hedge trimming and pruning. Let us add a touch of beauty and form to your outdoors through periodic hedge trimming and pruning. We have skilled crews who can achieve a spic and span appearance by artfully pruning and trimming your garden hedge.


Clearing lots. Are you planning a major renovation or you only want to get rid of some trees, shrubs, and unwanted debris or structures in your yard? No worries since we also cover this task in our offered tree services. We have the heavy equipment and experienced people to get the job quickly and properly.


We Have Complete Tools and Equipment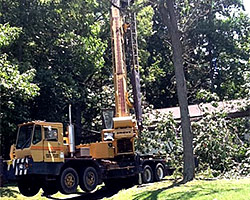 Performing different tree services can be quite daunting with some tasks requiring heavy equipment and a lot of skilled crews to complete. And then there are those less labor-intensive tasks that also require specific tools and equipment to be properly performed.
At Adam's Tree & Landscaping, we have all the necessary hand tools and heavy equipment to handle any tree-related concern of clients in Spotsylvania and other Virginia cities that we serve. We have wood chippers, stump grinders, chainsaws and hand saws, pruners and loppers, tree rigging and removal equipment, backhoes, and the like. With us, no task is too simple or too complex – we can guarantee positive results, nonetheless.
Hire Reliable and Experienced Tree Specialists
If you're from Spotsylvania, VA or residing in a nearby area, we are the right company to hire. We can help you in landscape maintenance and make your outdoor area safer, more beautiful, and more functional with our budget-friendly tree services. Call us today at 1-800-555-6786 for more details.
We Provide Services to the Following Cities and Towns in VA:
Louisa, VA
Orange, VA
Fauquier, VA
Loudoun, VA
Stafford, VA
Lake Anna, VA
Fawn Lake, VA
Cascades, VA