Wood &amp Chain Link Fencing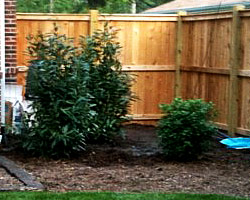 One of the first things that homeowners do when they move into a new home, is to set up good fencing along the perimeter of the property. This adds to the safety of the property and to its aesthetics as well. Adam's Tree & Landscaping provides expert fencing services in and around Culpeper and the surrounding areas like Lake Anna, Fairfax and Fredericksburg.
Different Choices
When it comes to fencing, there are a number of materials to choose from but wood fencing and chain link fencing are some of the most popular options. The kind of fencing you choose will be dependent on your specific need, the style you are looking for as well as your budget. Let's take a look at the different types of wood & chain link fencing that is available and what the benefits are.
Wood Fencing
There is a variety of wood fencing like picket, privacy, board, split rail etc. Each one of these has their specific uses and you can choose one that suits your liking and preferences. Take a look at the benefits:
Though wood fences are not extremely inexpensive, they are long lasting which makes them effective in the long run. The amount you spend will depend on the type of wood fencing you use and the area that is covered
It is possible to easily customize wooden fences- This goes a long way in creating the right look for your property
Maintenance of these fences is also very easy and in case of damage, they are also very easy to fix. You will have to ensure that the wood is treated properly and it will last for years
Wood also ages very well which makes it suitable for anyone who does not want to bother with replacing the fence every now and then
The material is an environmentally-friendly choice
Chain Link Fence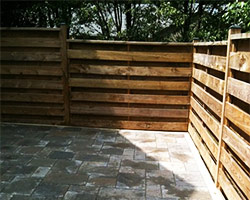 This type of fence is also very popular and it too has some distinct benefits like:
Easy installation
Low maintenance
Low Cost
Sturdy in inclement weather
Durable
Looks good
Both these types of fences are available in a range of costs and styles. We can provide you with wooden fencing as well as chain link fencing. We use only the best quality materials in all our projects. The most skilled fence installers will be deployed to your property for the job. In addition, we keep a very strong control over quality and costs and ensure that you get full value for money.
The Professionals
Adam's Tree & Landscaping has been working consistently in the Culpeper and surrounding areas for a number of years and we have scores of satisfied customers here. If you need either wood fencing or chain link fencing, you need look no further than our company. Contact us on 540-229-5411 and we will discuss your complete requirement and the scale of the job and provide you with the best quote.
We Provide Services to the Following Cities and Towns in VA:
Louisa, VA
Orange, VA
Fauquier, VA
Loudoun, VA
Stafford, VA
Lake Anna, VA
Fawn Lake, VA
Cascades, VA