Landscaping Culpeper, VA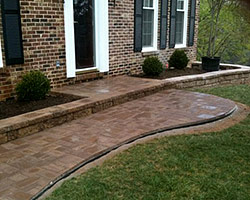 Our main goal at Adam's Tree & Landscaping is to become the leading landscaping company in the state that offers topnotch and unmatched landscape services. We make sure that we give our clients more than what they deserve when performing our tasks. In fact, it's always been those little extras that have endeared us to property owners across Virginia, particularly in Culpeper, Spotsylvania, and Fairfax.
Please don't hesitate to contact us today so we can let you experience first-hand the kind of results-oriented landscaping services that we're known for.
Best Value-for-Money Landscape Design and Build Services
We offer budget-friendly landscape design and installation services to clients in Culpeper, VA and in nearby locations. We're fortunate to have creative designers who utilize the latest in design tools such as 3D computer software to render stunningly detailed and attractive landscape design plans. We can work with owners of private residences for their property improvement project, as well as with commercial clients who want to make sure that their business will be irresistible to their target clientele.
Our team of installers, meanwhile, is composed of masons, artisans, and landscaping professionals who have worked on numerous installation jobs before. Our installers can help realize your dream landscape amenities no matter how simple or challenging they may be. Whether you need a paver driveway or you desire some water and fire features for your outdoor bonding moments with family and friends, we have your needs covered.
Other Landscaping Services that We Offer
Aside from design and installation, we also offer other landscaping services that guarantee postcard-worthy outdoors. Here's a short list of the services that you can hire us for: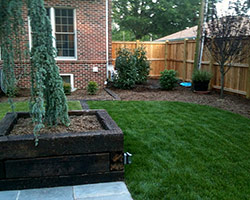 Outdoor lighting setup. Do you want to bring out your landscape's beauty once the sun sets in? We have the skilled technicians who can bring the much-needed awe factor to your landscape by installing themed outdoor lighting in strategic areas. Be it along pathways, in your patio, or around your garden, we promise to use the finest lighting fixtures to enhance your property's beauty from dusk until dawn.


Grading and site work. We have a fleet of heavy equipment needed to handle labor-intensive grading, excavation, and other tasks required to prepare sites for landscaping projects. Our crews are trained to operate heavy machinery and ensure that the entire site is properly prepped so installation of different amenities and utilities can push through without problems.


Irrigation installation. Water is needed to keep plants healthy, and we can ensure the survival of your precious plantings by installing the right irrigation system. We use only topnotch materials and products from trusted suppliers, so you're assured of flawlessly functioning irrigation for a healthy lawn.


Skilled and Experienced Landscaping Personnel
We only hire duly licensed crews with proven records in design and installation services. In fact, we have assembled probably the finest landscaping team among all Culpeper-based companies. Our design and build teams are composed of experienced and skilled personnel who share our passion for excellence and professionalism. Together, our crews can create landscapes that are stunning, functional, and sustainable.
Please call 1-800-555-6786 today and let us work on your landscaping project.
We Provide Services to the Following Cities and Towns in VA:
Louisa, VA
Orange, VA
Fauquier, VA
Loudoun, VA
Stafford, VA
Lake Anna, VA
Fawn Lake, VA
Cascades, VA