Finished Concrete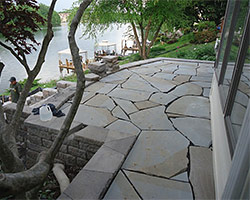 Concrete is an extremely versatile material and can be used in a range of applications. Regardless of where it is used, it affords a solid and lasting option with a very good finish. It's functional, low-maintenance and is used in residential, commercial, office and industrial applications across Fairfax, Fawn Lake, Fredericksburg and the surrounding areas. Though its use is quite widespread, not many homeowners are aware that finished concrete looks great in residential applications.
The general perception is that it is more suitable for commercial and industrial applications. The fact is that concrete can be as colorful, decorative and attractive as you want it to be and is ideal as an exterior home flooring material too. Its durable and hardy, will not warp, flake or chip and is low maintenance. All of this means that in the long-term, it becomes a very cost-effective flooring option and you do not have to worry about replacement or repair.
Design Options
There are an endless number of finished concrete design options to choose from and you are sure to find one that matches your personal style and preference. Adam's Tree & Landscaping offers you all types of concrete flooring and we are the experts in this space. Once the installation has been completed, we will finish the concrete floor with the texture design, pattern and color that you like. If you so choose, we can also give it a finish which looks like ceramic tile or marble. The other way in which finished concrete can be treated is to etch or stain it.
We have been working on concrete flooring projects for a number of years and know exactly what it takes to provide you with a floor that will be durable and look beautiful for years to come. When you come to us with your requirement and we have understood it well, we will then provide you with the different options and you can pick from one of those. You can choose from low gloss or high gloss finished concrete flooring. The fact that there are so many options means that your flooring will always look unique and stunning.
Wide-Ranging Uses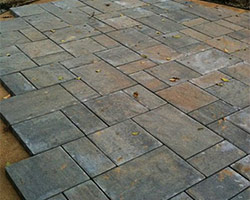 This material can be used in various areas of your home and its outdoor spaces and will look equally stunning and attractive. If you want, we can also add concrete overlays or toppings. The world of interior design has changed and the numbers of materials that have flooded the market now give you a wide variety to choose from. Despite this, a number of people veer towards finished concrete flooring. It's no more a material that can be used only in commercial spaces.
We at Adam's Tree & Landscaping have the experience and the expertise to create just the right look for you with the different type of finished concrete flooring that we provide you with. We serve Culpeper, VA and the surrounding areas and can be reached on 540-229-5411. Alternatively, you can also connect with us via our
online form
and we will contact you as soon as possible.
We Provide Services to the Following Cities and Towns in VA:
Louisa, VA
Orange, VA
Fauquier, VA
Loudoun, VA
Stafford, VA
Lake Anna, VA
Fawn Lake, VA
Cascades, VA