Flagstone Patios
There are a number of materials that can be used to cover patio floors, but flagstone is a very popular choice. This is primarily because it has narrow packed joints which are excellent when you need the water to permeate instead of just running off the surface. In addition to this, the natural and earthy look that flagstone patios provide blend in very well with different designing and landscaping concepts.
The Benefits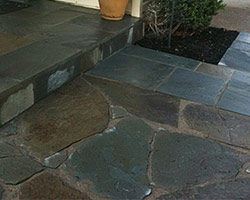 As a matter of fact, the material fits in very well with traditional as well as contemporary designing styles. There are a number of benefits to getting flagstone patios installed in your home. Take a look at some of them:
Natural looking
Highly Durable
Can be laid-dry for a very permeable surface
Moss/grass/hardy ground-cover can be grown easily between the stones
Attractive colors that have a natural variation
Patterns & Layouts
Flagstone patios are excellent for informal as well as formal-looking homes. If you want a formal look, you can opt for select cut stones and the pattern can be a repeating one. On the other hand, if an informal look is what you prefer, Adam's Tree & Landscaping can provide irregular cut flagstones and then have them set in a random manner. This is referred to as crazy paving.
If you opt for flagstone in a very randomized rectangle pattern, it will provide a formal look and continuity in conjunction with some staggered joints that will effectively break the monotony. If you prefer a smooth surface on your flagstone patios, we can mortar the joints - this provides a perfect surface and chairs can be moved across it without any hindrance.
Different Looks
Regardless of the look that you choose for your flagstone patios, we will begin the project by surveying the area where the installation has to take place. If this space is going to be used mainly as an entertainment and dining area, the flagstone can be mortared right onto the concrete base below it. Once you have provided with a clear idea about what your needs are, we will work on the design and installation accordingly.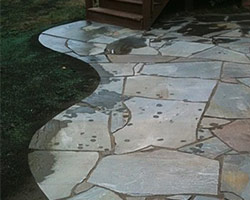 Only the best materials are used in every project and very skilled labor will carry out the work to perfection. We provide you with very realistic quotes and always give you value for money. Even as we work very efficiently within your budget, we also ensure that no corners are cut. Our supervisors and personnel are very courteous and handle the job perfectly. Within no time at all, you will have the beautiful and attractive flagstone patios that you wanted.
If you are looking for the best landscaping contractor in Culpeper, Fairfax, Lake Anna or any of the surrounding areas, look no further than Adam's Tree & Landscaping. We are the chosen company when it comes to any kinds of landscaping jobs. Speak with our knowledgeable staff on 540-229-5411. Alternatively, you can also drop us a line via our
website form
.
We Provide Services to the Following Cities and Towns in VA:
Louisa, VA
Orange, VA
Fauquier, VA
Loudoun, VA
Stafford, VA
Lake Anna, VA
Fawn Lake, VA
Cascades, VA