Masonry & Stone Veneer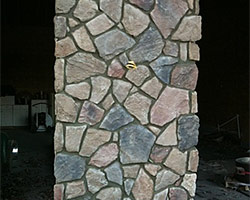 The interior designing space is very dynamic. The concepts are ever-changing, people's tastes change, the requirements undergo a change and very importantly, new materials are launched every other day. There are new paints; new flooring, new wall finishes and new accent pieces that can be used to create spaces that are unique and alluring.
This also means that customers have a variety of choices, when it comes to designs and concepts for indoor and outdoor spaces on their property. The latter are something that homeowners like to design and remodel to match the interior spaces and these are now being given a lot of attention.
The Best Designers
If you need any outdoor spaces designed and any features installed or remodeled in Culpeper, Manassas or Fredericksburg, Adam's Tree & Landscaping can help you with every aspect of landscaping. We have a number of years of experience and know how to cater to your taste. Every one of the solutions that we provide is customized to your needs and we also ensure that your budget is kept within view at all times.
Types of Masonry
We know that once the masonry work has been completed the final finish is important too. We can provide you with the best stone veneer. This is the perfect option for covering all kinds of exterior walls and it adds a very elegant look to the interiors as well. But before we clad your walls with anything, we ensure that the masonry is engineered to perfection and that the best materials are used in its construction. We install different masonry features such as: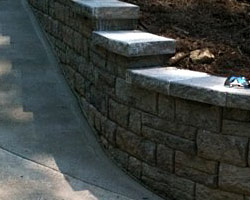 Exterior walls for patios and outdoor kitchens
Retaining walls
Sidewalks and Driveways
Concrete flooring for outdoor spaces
Fireplaces and fire pits
Water features
Other outdoor features
But creating well-engineered and solid masonry elements is only the beginning. Once that is in place, we then understand what kind of finishes you like. As mentioned earlier stone veneer is a great way to get a natural look without having to worry about the heaviness of stone. This is essentially manufactured thin slabs/ tiles of a natural stone of your choice. This stone veneer can be used to clad walls and looks exactly like stone.
Different Effects
It can change the complete look of any ordinary space and make it look extraordinary. The veneer can also be used on fireplace and fire pit walls for a very special effect. If the natural look is what you like, stone veneer is made just for you. You can choose from finishes like:
Slate
Limestone
Sandstone
Mica schist
Stone veneer could be a mix of this as well as lava rock and Portland cement. The material is lightweight and considerably cheaper than natural stone. It's also available in a range of finishes, textures, colors and styles. If you want to enhance the look of the outdoor areas in your home, opt for masonry and stone veneers from Adam's Tree & Landscaping. You can reach us on 540-229-5411.
We Provide Services to the Following Cities and Towns in VA:
Louisa, VA
Orange, VA
Fauquier, VA
Loudoun, VA
Stafford, VA
Lake Anna, VA
Fawn Lake, VA
Cascades, VA