Outdoor Kitchens & BBQ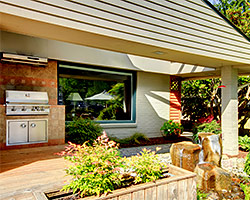 Having any outdoor spaces designed and installed are a great way to extend the living areas of your home. The kitchen is the heart of a home and bringing this space outdoors also means that you and your family will end up using the areas that surround it, in a much better way. You will find that it is a perfect place to entertain your guests and to spend some leisurely moments.
But designing trends are always changing and there are number of different elements and features that can be added and some of them can be cost-saving ones too. The fact is that outdoor kitchens add significant value to your homes and designing it in the best possible way is one way of ensuring that it gives you good return on investment. Take a look at some of the latest trends:
Accessorizing
Outdoor kitchens are much more than just a single charcoal grill. Today, accessorizing is the way to go and homeowners are going all out with their designing ideas and adding BBQ's, refrigerators, elaborate counters, cabinetry and bars to these outdoor kitchens. Today, it is possible to get the most elaborate BBQ's. If you are very particular about grilling and like to cook, then having the right one in your kitchen is a great way to ensure that you and your family will spend more special moments there.
Things to Consider
With our years of experience, we at Adam's Tree & Landscaping know that customization is key and we will be able to design these outdoor kitchens in the best possible way. When choosing outdoor BBQ's, the few things you need to take into consideration are: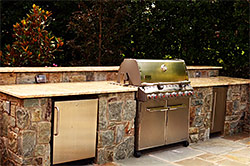 Decide whether you want a standalone piece or prefer one that has been built into the outdoor kitchen counter. This is something we will keep in view while designing the space. We can also add some accessories such as rotisseries and pizza trays etc


The size of the BBQs is also something you will have to decide on and our designers will help you with this particular aspect. When an outdoor kitchen is being designed, space is something that has to be planned very carefully. We ensure that there is sufficient space allocation for the counters as well as seating space


The fuel that you will be using for the BBQ's and grills will also make a difference to the design. If you have opted for gas, we will have to ensure that plumbing for the gas line is run from the house and this is a decision you will have to make before the outdoor kitchen project starts. On the other hand, if you have opted for propane, we will only have to ensure that there is space to position the tank in the outdoor kitchen.


Regardless of the kind of outdoor kitchens and BBQ's you want, we at Adam's Tree & Landscaping will provide you with the best solution within the budget that you have in mind. If you have any landscaping out outdoors spaces designing need in Fairfax, Manassas and Fredericksburg, contact us on 540-229-5411.
We Provide Services to the Following Cities and Towns in VA:
Louisa, VA
Orange, VA
Fauquier, VA
Loudoun, VA
Stafford, VA
Lake Anna, VA
Fawn Lake, VA
Cascades, VA