Landscape Contractor Fredericksburg, VA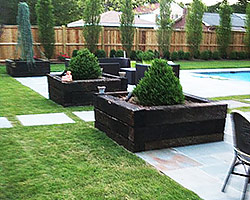 Adam's Tree & Landscaping is the landscape contractor that clients across Fairfax, Culpeper, and Fredericksburg can rely on for all their landscaping concerns. We're known for doing our jobs correctly the first time, and our professional way of dealing with clients is one of the reasons why Virginia clients have come to respect and trust us.
For any of your questions and concerns, please don't think twice about calling us or visiting our office today.
Our Comprehensive Landscaping Services
It's hard to find a landscape contractor that can handle all possible landscaping needs of commercial and residential property owners. The good news is that residents of Fairfax, VA and nearby cities that we serve can avail a comprehensive range of services from us - be it design, installation, or maintenance.
We are proud of our accomplishments in these fields, and proof of it is our ever expanding client base and growing list of successfully completed landscaping projects. With us, clients won't have to hire several landscape contractors to perform landscape design, maintenance, and installation. All they need is us.
What Makes Us Successful as a Landscape Contractor?
In this kind of business, it's hard to be a success story without first sweating it out and trying to stand out from all other contractors. Our company happens to be among the very few contractors that have a long list of completed projects, both residential and commercial. As a landscape contractor, we take our jobs with steely seriousness. For us, every task is an opportunity to help clients enjoy a relaxing landscape where they can create memories with family and friends.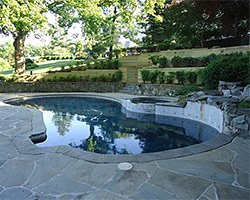 We adhere to providing top-quality work, professionalism, and fairness in our rates. We have highly skilled people who constantly undergo industry training to learn the best practices adopted by the finest companies in the industry. So when you hire us, you're guaranteed world-class services courtesy of our skilled and dedicated crews. We assure you of complete satisfaction with the quality and manner by which we deliver our promised results.
Additionally, we observe streamlined processes and safety precautions when we handle our client's landscaping concerns. Our goal is to complete our projects as quickly as possible, without causing any damage to our client's property.
We also avoid cutting corners by using substandard materials that only leads to wastage of client's money. Since we started operations, we have always used supplies and materials that come from the finest manufacturers and suppliers. By doing this, we're able to create landscape amenities that don't just last for a few years but for decades.
Landscaping Services Offered at Competitive Rates
We believe that we have an unwritten duty to reach out to as many Virginia clients as possible, particularly those from Fairfax and surrounding cities. Incidentally, we have long been known as a landscape contractor that charges competitive prices for the services that we offer.
Whether a client hired us to create a full landscape design plan or asked us to do routine tree maintenance tasks, we always make sure that our rates are easily affordable. Moreover, we offer flexible and varied payment options so that clients won't find it hard to pay for the services that they hired us for.
Contact us today at 1-800-555-6786 and let us talk about your landscaping needs.
We Provide Services to the Following Cities and Towns in VA:
Louisa, VA
Orange, VA
Fauquier, VA
Loudoun, VA
Stafford, VA
Lake Anna, VA
Fawn Lake, VA
Cascades, VA