Fire Pits
There are a number of elements that can be added to your landscape to make it look special and unique. We at Adam's Tree & Landscaping have been in the landscaping business for a number of years and have created the most stunning landscapes for clients across Culpeper, and the surrounding areas. We focus on a number of different aspects while creating these spaces and ensure that they all have the right balance. We use hardscaping, softscaping, water and fire elements for the right effect.
The Fire Element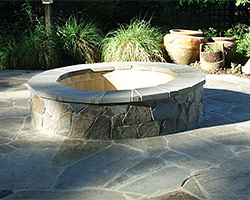 Fire pits are a great addition to any landscape. If they are designed right, they can also be added to patios to make the space more welcoming and comfortable. Once fire pits have been added to any area, we also need to make sure that there is enough space for seating. This means that the fire pit does not work in isolation. If you want to enjoy it and its warmth, you will need sufficient and comfortable seating around it.
All of this simply means that we have to get the planning right. Once you decide that you want a fire pit on your property and you call us, we understand what your design ideas are. If you are not too sure about what you want, we focus on providing you with various options. This is a very important stage of the fire pits designing process, as your style has to shine through in the design of the element and the surrounding space.
A Matter of Leisure
You will be using this area to spend leisurely moments with your family and will also be socializing with friends there. This means that we also have to ensure that there is enough space in the chosen spot. If you are planning on using the fire from the fire pit as a cooking source, we will have to provide for a BBQ style grill too. This will add a special touch and functionality to the area.
Customized Solutions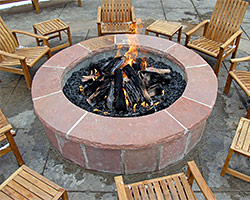 All our fire pits solutions are customized and we always ensure that all the designing aspects are specific to your needs. The fire pits could be made of concrete, natural stone or brick (as per your design requirement). We will also be taking into account the other materials that have been used in the landscaping- for that special and cohesive effect.
You will also have to decide which fuel option you want and you can opt for gas, propane or wood burning fire pits. Some areas have stringent rules around burning wood. In addition, wood fire pits tend to be high maintenance and there is a lot of smoke and ash to deal with. In comparison, the gas and propane ones are cleaner and much easier to maintain. If you opt for a gas fueled fire pit, we will have to run a line from your home to the fire pit spot.
Adam's Tree & Landscaping can provide you with the most unique and arresting fire pits in Spotsylvaaniaa, Lake Anna, Manassas, and the surrounding cities. Simply contact us via our
online form
or on 540-229-5411 and our sales staff will provide you options and quotes.
We Provide Services to the Following Cities and Towns in VA:
Louisa, VA
Orange, VA
Fauquier, VA
Loudoun, VA
Stafford, VA
Lake Anna, VA
Fawn Lake, VA
Cascades, VA