Outdoor Fireplace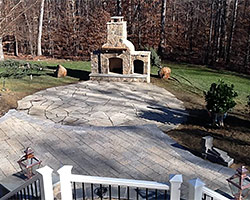 Today, interior design and landscaping has grown in a very big way and every homeowner wants to spruce up the look of the indoor and outdoor areas of their home. The one way to make the best use of all those outdoor spaces is to create a beautiful setting with a well-designed and customized outdoor fireplace.
This fireplace can be added to a deck, patio, an outdoor kitchen, pool houses or any other outdoor area on your property. There is something distinctly welcoming when you add an outdoor fireplace. It automatically transforms the look of the entire area and also gives you a solid reason to step outdoors and enjoy your property more.
Beautiful Outdoor Spaces
In most cases, outdoor living spaces are out of bounds in inclement weather, but if you have a semi-enclosed outdoor area with a fireplace, we promise you, nothing will keep you indoors. There is a definite charm to be able to sit down in front of a roaring fire and enjoy your landscaping, even when there is a nip in the air.
This is exactly way a number of customers across Fairfax, Culpeper, Fredericksburg and the surrounding areas ask us to design and install an outdoor fireplace for them. When we build these fireplaces, there are different aspects that we take into consideration, such as:
Design - The design aspect covers form, function and styling. When it comes to form, we consider the actual space that is available to us and ensure that the outdoor fireplace that we design is proportionate to the space and the style of the area that it is going to sit in. This is very important and we also have to keep enough space for a seating arrangement based on the number of people you will generally be entertaining there


Materials - The materials that we use in the installation of your fireplace will be dependent on the other materials that are used in your home design. We may use concrete, brick, stone or any other material that matches the look of the décor in and around the outdoor spaces of your home. It is this attention to detail that ensures every outdoor fireplace we create for you , will be stunning and unique


Maintenance - This is also a very important aspect. The level of maintenance will depend on the materials that are used to build the fireplace as well as the fuel option you choose. Though it's great to have a wood fire crackling in the outdoor fireplace, it can be a very high-maintenance option. On the other hand, if you opt for propane or gas as a fuel option, the maintenance levels and cost will be much lower


In addition to all these factors, we also take your budget and personal tastes into consideration and those are kept in view at all times. If you want creatively-designed and beautiful outdoor fireplace, call Adam's Tree & Landscaping today. When you contact us via our
online form
or on 540-229-5411, our sales representatives will provide you with a suitable quote.
We Provide Services to the Following Cities and Towns in VA:
Louisa, VA
Orange, VA
Fauquier, VA
Loudoun, VA
Stafford, VA
Lake Anna, VA
Fawn Lake, VA
Cascades, VA