Retaining Walls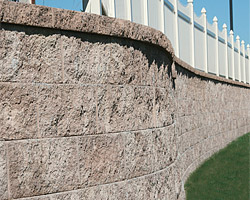 Vertica®
The appealing alternative with a classic look
The Vertica® retaining wall system is ideal for large scale installations requiring strength and durability along with a clean look in a near-vertical appearance. It's ideal for a variety of applications, including terraces and highprofile walls. Vertica's® rich, stone cut look provides an appealing alternative to splitface wall textures.
Colors and Shapes
Actual color and size may vary. To assure your total satisfaction, request samples of the style and color you're interested in.
Available in Brittany Blend, Grey, Tan and
NEW COLOR this Year – Cognac Blend

Victorian Face 2°
8" x 18" x 11"


Corner
8" x 18" x 9"


Cap
4" x 17 1/4" /12" x 10 3/8"


We Provide Services to the Following Cities and Towns in VA:
Louisa, VA
Orange, VA
Fauquier, VA
Loudoun, VA
Stafford, VA
Lake Anna, VA
Fawn Lake, VA
Cascades, VA